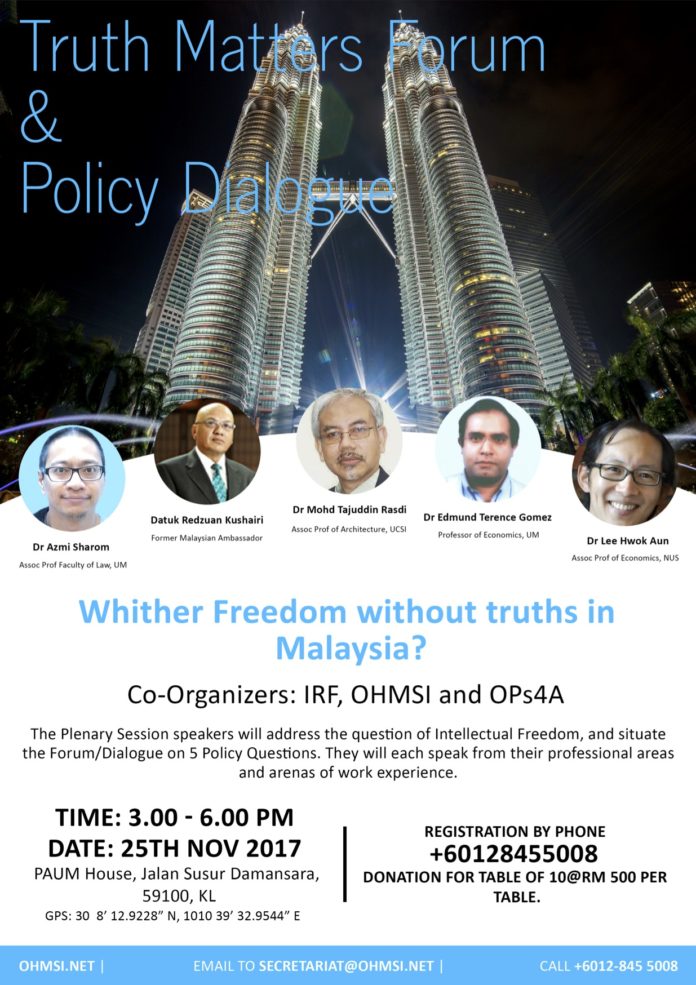 Theme for OPs4A Truth Matters Forum (25-Nov-2017)
Policy Context
Recently, the Ministry of Home Affairs was been on a banning spree.  They are now so fearful about citizen "thought-life!" Maybe their writing is on the wall to anticipate a poetic prophesy about their future.
Human conscience has therefore now become "the jailing parameters dominating our thought-policing!" And we are therefore called to become imprisoned into logic limits of human freedom defined by their thought, interpretation of faith, or human conscience!
Consequently, during the 1948-60 period, while the policy context was relevant for the Internal Security Act, the same is not true today!  Therefore it has now been abolished.  The real dangers of "terrorist violation against the Government of the Day is no more the Communist Party of Malaya, but Islamic radicals and extremists, as defined by the new IGP!
And yet today the 'Chinese capitalists' who are no more communists, are blamed for all that is wrong in Malaysia! Capitalists of all colours and shades are driven by money and their love of it!  I have yet to meet any exceptions but those who are self-acclaimed moral capitalists!
Therefore, while we accept real imperatives for change, very few will make any direct connection between the "book banning tradition" and the former ideology of instilling "fear and insecurity" for political domination by blaming external enemy forces.
But, today every Minister of Home Affairs, which used to be a preferred portfolio of the PM, is now a Deputy PM portfolio.   But such incumbent seems to continue to wave their political wand of brainwashing by the mere stroke of his pen!  The banning of books is the equivalent of cleaning and clearing of minds as a favoured agenda. How naïve!
Therefore for our new Policy Context and dialogue our theme is: Whither Freedom without truths in Malaysia?
Our related 5 policy questions and proposed speakers are:
How do we ensure that the original spirit and integrity of the Federal Constitution can be fully deployed to help Malaysia achieve Vision 2020 with National Unity?
Dr Azmi Sharom, Assoc Professor of Law, University of Malaya
How do we ensure that ASEAN does not concede to bigotry and systemic racism vide ASEAN's "non-interference principle," especially in the case of the Rohingya abuse today?"
Dato Redzuan Kushairi, Former Ambassador of Malaysia
How do we help reframe our education policy and priorities while ensuring we are scientifically relevant and younger generation Malaysians continue to be educated within the best standards of both mathematics and science premised upon logic and reasoning!
Dr Mohd Tajuddin Rasdi, Assoc Professor of Architecture, UCSI University
How do we ensure that the policy of privatization of Public Programmes and Services does not transfer financial hardship of basic healthcare and infrastructure services, without due consideration, to ordinary Malaysians in the countryside and especially, the next generation of citizens?
Dr Edmund Terence Gomez, Professor of Economics at UM.
How do we ensure that there always exists a basic safety net for all bottom 15% Malaysians and they are not denied the best opportunities for advancement or progressions in life! Where are these 15% located and found today?
Dr Lee Hwok Aun, Senior Fellow, Institute of Southeast Asian Studies (ISEAS)
The Plenary Session speakers will address the question of Intellectual Freedom, and situate the Forum/Dialogue on the above 5 Policy Questions.  Each speaker has 7 minutes to state the problem and the proposed solution.  After 5 minutes the bell will ring a two-minute notice.
These Plenary Speakers address the Breakout Sessions with the help of a process facilitator and the group will table their specific policy issues and concerns plus recommendations for final Roundtable Dialogue session in March of 2018.
The final outcome of the Policy Dialogue and Forum will be a comprehensive Policy Document to be tabled to both; the Conference of Rulers, and then to the Government of Malaysia.
For OPs4A Organizing Committee or OPs4A, IRF and OHMSI Sdn Bhd,
Forum Convenor KJ John,
Chairman of OHMSI Sdn Bhd.
14th November 2017.