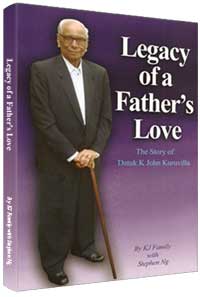 Here is a fascinating account of a young man from Kerala, who landed in Malaysia, just with one rupee, worked hard, became a leader of the community, raised a family and set before his children and grand children standards they are to follow fearing God and serving children standards they are to follow the goverment and respect of the people he served. Now nearing 90, the account of his life demonstrates how family values serve to develop human personality demonstrates how family values serve to develop human personality and promote unity and harmony.
MP Krishnan Kutty
Columnist and Former Chief sub Editor, Times of India.
---
"Uncle is truly a man of God and because of this most chiefly, he can be described as a good man whom God made great."
Pastor John E. Williams
---
This book, to my mind, captures what Bangsa Malaysia spirit is really all about. It is the real life story of one man who came to Malaya with one rupee in his pocket and struggled to make a new life in Malaysia… It is what every family in Malaysia can achieve if we use the opportunities given to us by the Almighty as we live in Malaysia.
Tun Dr. Mahathir Mohamad
Former Prime Minister of Malaysia
---
This is the fascinating story of a most remarkable man, his family, and his community – the Malayalee Syrian Christians, unfolding from roots in Kerala, India through the tumultuous events of the Second World War and the Japanese Occupation… Through it all, the family holds together and remains faithful to a faithful God, Jehovah Jireh, who undergirds all major decisions and transitions in their lives.This is a book to read and keep for those who have been through those time and for those who come after.
Dato' Dr Alex Mathews
Chairman, Oversea Missionary Fellowship Malaysia
---
Legacy of a Father's Love – The Story of Datuk K. John Kuruvilla
by KJ Family with Stephen Ng
Published by: OAK Publications
ISBN: 978-983-3735-51-8
Dimensions: Approx 13 x 21 x 1 cm, 152 pages